A belt is a necessary accessory in any man's wardrobe. Wearing a belt is one of the may tests of fashion. This very easy task, done well and right proves that a man knows his clothes. A mismatch shows that one still has a bit of learning to do. How does one go about buying a belt to match their wardrobe.
Mens Belt Buying Guide
Belt Length
Pick a belt that is two to three-inch sizes bigger that your pants to have a good fit. However, the best way to check the fit is to try it out. A good belt needs to have a few inches of leather to the left side of the buckle left once it is fastened. The remaining leather needs to be enough to be able to be tucked under the belts first loop. It is better for the length shorter than a long tail that can be wrapped a second time around the waist which will look awkward.
Belt Buckle
The buckle design matters. Formal buckles have small, flat buckles and tend to be narrow belts. The buckle color tends to be either silver in color or gold. In contrast, casual belts tend to have larger buckles, which can have an array of buckle colors. Thus the bigger the belt buckle, the less formal the belt will be.
Belt Color
The rule of belts and a man's wardrobe is that the belt should be matched and paired with the shoes. That is black shoes with a black belt, brown shoes with a brown belt. If you are wearing cloth shoes, match it with a cloth belt. If wearing casual shoes not made of leather then there is freedom pair around the belt. Belt colors range from animal prints like reptiles to one color prints.
Belt Design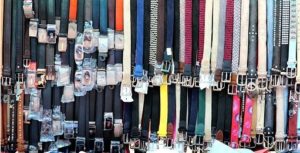 There are a variety of designs that will suit a man's needs, style, and taste. Style ranges from leather dress belts to leather casual belts, to formal skinny or casual skinny belts to woven belts, buckle belts, and fabric cloth belts. The quality of the leather used is also a factor is determining a good belt.
One can buy belts from the stores or online. The construction of a belt and quality of leather used play a significant part in pricing. Likewise, the brand name also plays a factor like argentinian polo belt. Inquire if there is a return policy in the case a particular belt does not fit well with other pants in your wardrobe and you require a different model.…