If you are in the market for a sewing machine, chances are you are confused by the vast array of models, features, and options. The numerous choices can be overwhelming. Buying a sewing machine is a significant investment. The right machine can make sewing a joy,  the wrong one can mean hours of struggle and frustration. The answer to a few key questions will make your decision as simple as sewing a straight seam! Consider the following when shopping for your sewing machine.
Choosing A Sewing Machine
Storage And Use
What are the characteristics of your sewing space? Are you fortunate enough to have a dedicated room to work on your creative projects? Or do you share space with your family? A room of your own will allow for a large cabinet with built in storage. Sewing on the kitchen table dictates portability.
Longevity
How long do you intend to keep your machine? Do you have a few simple projects you'd like to complete, but don't anticipate regular sewing? Or are you a regular sewer that requires a heavy duty machine? Are you the type that wants the latest and greatest model and will be back in the market in a year or two for an upgrade?
Sewing Projects
What type of sewing will you do? Are you into crafts, fabric art, or fashion design? Or do you anticipate only simple, basic sewing such as mending and hems? Is home decor your primary objective? If so, will you restrict yourself to tasks such as lightweight curtains, tablecloths, and placemats? Or are draperies, bed covers, and slipcovers on your list? The latter would necessitate a heavy duty machine. Is your goal to save money by sewing for a growing family or fashion your unique clothing? With this objective in mind, you might insist on particular stitching features.
Stitches
What stitching features do you require? A basic straight stitch machine is the least expensive. For mending and simple projects, this may be all you need. A semi-automatic zigzag is the next level. In addition to a zigzag stitch, these sew stretchy fabrics, make buttonholes, and finish seam edges. Some may have the ability to create a blind hem and stretch stitch.
Then there i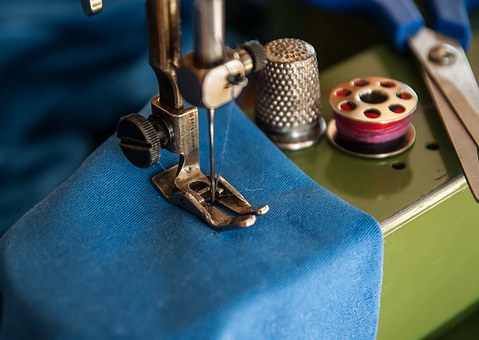 s the mechanical, automatic zigzag. Stitches include straight, zigzag, and stretch stitching. An assortment of decorative stitches can be produced by either inserting a cam or manipulating a hand control. If you have dreams of creations with decorative stitches and are willing to put in a bit of practice time, this category may be a good choice.
Finally, there are high-tech, computerized models. These can do everything the mechanical zigzag can do – plus much more. Powered by an electronic computer chip, stitches are created with a simple push of a button. Consider whether you use such wonder features? And are they worth the added cost?
Bottom Line
The question of how to choose the the ideal machine is quickly answered with a bit of thought. Consider your needs, purpose, available time for sewing, and your budget.